A customer relationship model: Allen Edmonds

by Howard Lee, CEO of Spoken Communications
I had to get my shoe shined today. I usually don't have someone shine my shoes; I try to do it myself as a functional chore and a routine that sets the tone before a big meeting or business trip. But sometimes time runs against me, and I grab a shine at the airport.
It is an oddly contemplative time for me, the shoe shine. As I watched this process of getting my shoes shined in the Newark airport, I marveled at my relationship to my shoes.  In today's throwaway culture, a long-term pair of shoes that endures for years is pretty hard to imagine. In my professional life, I'm constantly searching for great customer experiences, and yet I've never really thought of the relationship that I've had with Allen Edmonds.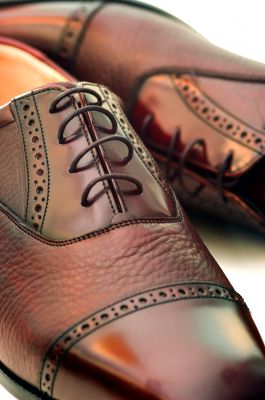 My special relationship with Allen Edmonds currently surrounds three pairs of shoes of varying ages, all in the same style. Those who know me that I am constantly trying to be "Even Better" with everything that I do–that's the customer service coming out. And though I'm not a shopper, I think I am on a constant quest to purchase high quality clothing items. But my relationship with these high-quality shoes and the company behind them wasn't really apparent, even to me, until I sat down for a shine.
I can't remember how many running shoes I've gone through over the last 20 years and how many pairs of loafers I've discarded. But I have found nirvana with my dress shoes.
This nirvana of my customer experience with Allen Edmonds began more than 20 years ago. Back then, a Nordstorm sales person convinced me that I could get a better value by buying a shoe that was 30% more expensive than my usual brand. He sold me on the fact that I could resole the shoes and actually own the shoe longer than a less expensive brand. I was already doing this with the other brands, but here was the issue: every re-sole the shoe wasn't the same or even better. 
Fifteen years ago, we had a neighborhood cobbler who would resole my shoes. And he did a great job, but work became more scarce with our throwaway culture; I think he retired. Even Nordstrom's stopped having a cobbler in their downtown store. It was getting harder and harder to get shoes resoled and justify investing in a higher quality shoe.
Enter in Allen Edmonds' recrafting program. 
As I was buying a new pair of Allen Edmonds, the Nordstorm sales person told me about this program.  Allen Edmonds builds shoes specifically so they can be restored after wear and tear. With the recrafting program, the company resoles and inserts a new footbed into the worn shoe. Actually, it's a 36-step process; here is a more detailed illustration:
As a customer, here's how it worked for me: you can go to a Nordstrom's store, and they provide you a plastic mailer and form. You mail the shoes to them and in two to three weeks they come back in a box as good as–let me restate that–better than new. They are actually better, in my opinion, because they are already broken in but look brand new. 
I can't remember how many times I've used this service over the years. But it's hard to imagine two things:
that there is a company willing to make a used product new again and forego a sale
that there is a retailer willing to help them do just that
In our throwaway culture when everyone seems to be competing by the lowest price, Allen Edmonds chooses to compete on quality and on the quality of their customer service, which they view as a lifelong commitment.
What has it done for them with me? It has forged a lifelong personal customer relationship, something that Allen Edmonds CEO and President, Paul D. Grangaard, believes in strongly. I only buy Allen Edmonds dress shoes at Nordstrom's. The Allen Edmonds brand allows them to charge a premium about 20% higher than other brands, which is still no where near the top of the market. And yet, I'm a customer for life.
And by the way, all their shoes are manufactured in the US. Can you think of many companies like Allen Edmonds?