New tools won't fix bad customer service
We've said it before: new tools won't fix your bad customer service. Or, as B.L. Ochman once put it, nothing else matters if your customer service s*cks.
You can add a Twitter account, a Facebook group and online chat agents, but if your corporate culture isn't akin to Zappos' and rewards fantastic customer service agents, you'll most likely find that those initiatives will fail.
Take this example of an online chat session, originally posted to Gizmodo under the title AT&T's Tech Support People are Just as Happy as Their Customers: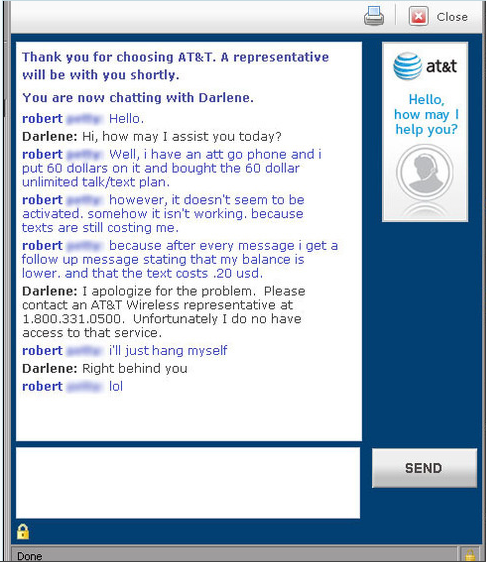 I don't mean to rag on AT&T; so far, I've found their service to be satisfying. Truth is, this could have been any wireless carrier. Or energy provider. Or any company in which the agents don't feel empowered to actually help customers in a meaningful way.
The lesson here is that while these communication tools are useful in connecting with customers, the end goal is to help customers and hopefully save them a little time in the process so that they walk away with a positive experience relating to the brand.
Online chat can be a valuable channel, both for the company and for its customers; I've used it to get quick questions answered, and I've never had an issue with it.